BUY THE BOOK – BRING IT TO THE HOSPITAL – LAY IT ON YOUR TRAY TABLE
IT'S A VISUAL THAT SAYS "I AM INFORMED."
Multiple copies of the book, Speak Up and Stay Alive are useful for training, workshops, or distribution to employees and personnel for professional development. Excellent for fundraisers or to re-sell. Perfect gift item for clients, customers, prospects, or for family, friends, and of course, for yourself. We are happy to offer better than industry standard discounts to accommodate your needs.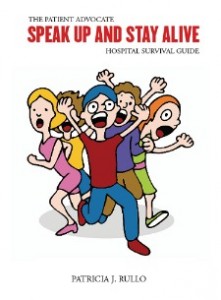 United States Only – Book Cover Price = $24.95 – LIMITED TIME – Special Internet prices below
Shipping outside of the United States? Please email carmen@millenniumstarpublishing.com for international rates.

Hard Copy
1- 9 Books – 20% discount –  $19.95 each
Save on 10 or more books – Books are pre-boxed in sets of 10 books per box.
1 – 5 boxes = 10 – 50 books – 40% discount – $14.97 per book – $149.70 per box + free shipping for limited time
6 – 9 boxes = 60 – 90 books – 50% discount – $12.50 per book – $125.00 per box + free shipping for limited time
10 plus boxes (100 plus books)  – 60% discount – $9.95 per book – $99.50 per box + free shipping for limited time
Wholesale rates available for resellers with resale tax ID. Please contact us for rates.
Note: A custom edition with your promotional material on the cover or first page of the book can be printed for orders of 3,000 copies or more.
Books may be mailed media mail, first class, priority USPS or UPS ground. If you require overnight or next day service, please contact us. International/Canadian rates and shipping times vary. Please email carmen@millenniumstarpublishing.com for shipping rates. Book rates are subject to change.
Special needs or questions? Contact carmen@millenniumstarpublishing.com
---
NEW CD! ONE HOUR and 40 MINUTES of PURE PATIENT EXPERIENCE IDEAS.
~~
PERFECT FOR HEALTHCARE PROVIDERS – HOSPITALS – NURSING HOMES – PATIENTS – FAMILY MEMBERS – PATIENT ADVOCATES
A meaningful training tool or gift for patients and providers.
---
Patient Safety Logs
Now Available – a vital supplement to the book
The Safety Logs are an important part of your hospital stay. Things happen quickly. Doctors and nurses rush in and out of your room and mistakes happen. Only through organization and diligence can you avoid miscommunication, drug mix-ups and hospital acquired infections.
The Patient Safety folder contains 15 pages of vital record-keeping logs such as tracking doctor and nurse visits, vital signs, tests, medications, contact numbers, advocate sign up sheets, questions and observation logs and many more. You'll also find a hospital terminology guide as well as a hand washing poster to alert all staff members to wash their hands before touching you.
When you walk into the hospital with your Speak Up and Stay Alive Patient Safety Logs, the doctors and nurses know you mean business!
Place it on your bedside table as a visual cue that you are a well informed patient who intends to stay alive.
Patient Safety Logs are only $8.95 – Expedited shipping via USPS Priority mail – $4.95 per set
---
IceBreaker Cards
An empowered and classy way to stay safe!
Are you afraid to ask your doctor or nurse to wash his or her hands before touching you? You're not alone. Yet thousands of innocent patients die each year because of avoidable healthcare acquired infections. It is not rude to make sure your healthcare provider follows proper handwashing and glove protocol. They are trained to do so. They understand the risks. Yet many times they forget or get lazy.
Here's a gentle reminder that starts a conversation with ease. Once your healthcare provider knows that you are informed enough to request clean hands – he or she will make it a point to follow correct procedures when dealing with you. Handing this card to someone is a powerful yet positive way to make your point.
Keep a supply of these cards in your wallet or purse. Use them at every doctor, dentist, manicurist, podiatrist, or hospital encounter. 
Give some to friends – as gifts – stocking stuffers …
10 IceBreaker Cards – $5.00 includes shipping and processing
25 IceBreaker Cards – $8.00 includes shipping and processing
50 IceBreaker Cards – $12.00 includes shipping and processing
You will never get a second chance to avoid an infection.
---
Remote Control Covers
The Television Remote Control is the Leading Carrier of Bacteria in a Patient's Hospital Room
Even the most dedicated maid service cannot possibly reach all the intricate crevices of the average TV remote control device. And this goes for hotel and motel rooms too! If the public only knew what a petri-dish a hotel TV remote control is, they would definitely think twice before kicking back with room service or take-out pizza with the TV remote in hand
Even the remote in your home gets grimy and germy.
What to do? Bring your own.
These plastic remote covers are conveniently packaged – 10 to a canister and fits nicely in a purse, hospital bag, or suitcase.
Stay safe from the germs and bacteria found on previous patient and guest's hands. Bring you own. Makes a great gift or stocking stuffer too!
 One canister of 10 Remote Control Covers plus FREE SHIPPING – $5.00
---
Hospital Infection Protection Survival Bag
Get everything in one convenient tote bag and save $$$
Bacteria Roadmap – Enter hospital room. Take off clothes, shoes, and socks. Put on a flimsy gown. Hop into bed. Uh-oh! Did your bare feet just touch the dirty hospital floor? Place eyeglasses, cell phones, and other personal items on a germ laden bedside table. Reach for the bacteria rich TV remote or call button. Adjust the bed with the push buttons recently used by the previous sick person. Rest head on an unfamiliar pillow.
Ahh … Settled in and thoroughly covered with infectious germs, you begin your hospital journey at a disadvantage. Your solution? The Infection Protection Survival Bag. This tote bag contains the items you need to disinfect your room and help keep you safe and comfortable while in the hospital. Some of the goodies in the bag include:
·         A copy of the book, Speak Up and Stay Alive
·         The Patient Safety Logs, a Clean Your Hands sign, a medical terminology guide and more
·         10 Ice-Breaker Cards
·         A "Positively Pocket Pillowcase" with a positive affirmation card. (handmade pillowcase with a small pocket that holds a card engraved with positive health suggestions. Read the positive affirmations just before falling asleep, and then tuck the card back into the pillowcase pocket. All through the night, your subconscious mind works to make those thoughts a reality.)
·         A canister of disinfectant wipes
·         Two disposable gloves
·         Handy tote bag
***** PLUS FREE WHILE SUPPLIES LAST – YOU VERY OWN CANNISTER OF TV REMOTE CONTROL COVERS
The bag is large enough to add your personal items. Everyone should have a prepared hospital bag. When a health crisis strikes, you may not have the luxury of time or clear thinking. Having a pre-packed infection protection bag makes it easy to stay safe should you or a loved one encounter a hospital stay.
The Infection Protection Survival Bag—filled with vital necessities for your safety and well-being.
If purchased separately = $83.90 – Now – $49.50
Your Infection Protection Survival Bag with book is only $49.50 + shipping  
---
Are you worried about the silent but health damaging effects of smart meters, cell towers, baby monitors, WiFi routers? Then you need a meter – a measuring device to accurately display what you cannot see, hear, or smell.
VISIT OUR SPECIAL EMF & RF METERS PAGE