She's an accomplished speaker, author, and radio host/producer.  Her fast, funny, and honest style help each audience member to feel like it's a personal conversation.
Your crowd will love her!

~~~~~
You have a real gift for presenting deadly serious health issues in an engaging and entertaining way.

Mark S. Davis, MD, operating room safety consultant and author of  "Irresponsible: What Surgeons Won't Tell You and How to Protect Yourself"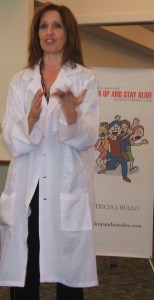 Book Pat to speak at your next event
Pat Rullo is available for speaking engagements for groups, organizations and hospitals. Please contact pat@speakupandstayalive.com for scheduling and honoraria/rates or leave a message on the studio line 440-725-5462
Proceeds fund THE SEWPORT PROJECT
Select a format and a topic for your next meeting, presentation, keynote, training, or workshop or we can design a specific topic relevant to your group.
For Patients – Advocates – Employers – Human Resource/Risk Management
"The Role of the Advocate" – why you need one – how to choose one – how to be one
"The Doctor Visit Demystified" – how to prepare for any doctor visit to achieve safe results
"Prepare to Prevail" – legal, mental, physical, spiritual, and other practical preparation ideas to insure hospital safety
"Health Care Hazards & Other Ominous Encounters" – hospital dangers revealed – what they are – how to survive
"The Senior Scenario" – seniors are at a great risk for hospital-induced conditions but they can be avoided
"Warnings for Women" – why many begin at the doctor's office
"Children's Challenges" – learn how to prevent errors in your child's care
"Vigilance for Veterans" – discover why a Veteran's illness drives different needs for their caregivers
"Holistic Healing" – how to use complementary and alternative medicine to stay out of the hospital or get out faster
From one hour keynote to a full day
For Healthcare Providers
"The Patient's Perspective" – no – not the typical "coke in the water fountain" suggestions – this is the real thing
"The Patient Experience" – the who, what, why, and how – you'll be surprised and refreshed by Pat's point of view
A must for hospital and healthcare staff,  nursing school students, home healthcare workers and others who work with patients – with a focus on how to improve patient satisfaction and patient expectations – how to recognize and deal with differing personality styles to improve communication.
From one hour keynote to a full day
(Pat is certified by Consulting Psychologists Press and Inscape Publishing and upon request will incorporate both the Myers Briggs Type Indicator and the DISC personality style awareness assessments within the sessions)
An interactive, powerful, and important presentation
filled with immediately useful information.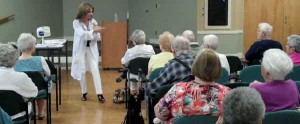 Book a presentation that will WOW your audience too! 
A Few Past Events
Cleveland Clinic – Quality Week
Cleveland Clinic – The Patient Experience Empathy & Innovation Summit
Westshore Pharmaceutical Association
The Beryl Institute Patient Experience Conference
Ohio Hospital Association Partnership for Patients
Central Arizona College
 Greater Cleveland Ohio Retired Teacher's Association
Lorain County Retired Teacher's Association
Geauga  County Retired Teacher's Association
Sandusky County Retired Teacher's Association
Wayne County Retired Teacher's Association
Summit County Retired Teacher's Association
Portage County Retired Teacher's Association
Holmes County Retired Teacher's Association
Richland County Retired Teacher's Association
World Congress Patient Experience Conference – Co-chair
American Society of Safety Engineers
Leadership Geauga – Notre Dame Provincial Center Auditorium
East Valley Committee on Aging – Mesa, Arizona
Heritage Club of Northeast Ohio
National Active and Retired Federal Employees
Arizona Grandparent Ambassadors Summit – Casa Grande, Arizona
Writers Unite to Fight Cancer Centennial Cancer Research Fundraiser – Arizona Biltmore – an official Arizona Centennial Event 
Book Pat to speak at your next event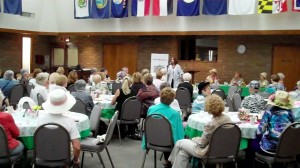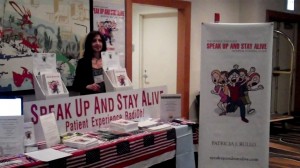 Cleveland Clinic Testimonials
"Pat – I attended your presentation at the Cleveland Clinic's Patient Experience Summit and must say that your message and delivery was one of the best I've encountered in a very long time. I loved the idea of sharing many voices from past radio shows and compliment you on the 'Happy Josephine Dance' as a way to exemplify the simplicity of the patient experience. High energy and heartfelt honesty. Thank you for all you do."
Lisa L.

Morgan Gleason @morgan_gleason · May 20
Really enjoying the @speakupradioh breakout session! #PESummit
"Happy and upbeat – she had us clapping and dancing. What a needed break from typical presentations."
William S.
CAAOCleveland @CAAOCleveland · May 20
Book to read – Speak Up and Stay Alive – The Patient Experience: Many Voices, Many Answers #PESummit

Amy Gleason @ThePatientsSide · May 20
Loving @speakupradioh presentation with great examples of patient experience. #PESummit
"I met you at the Beryl Institute's patient experience conference and enjoyed the interview. It was great to share my story with you. You're a great listener."
An attendee
"Insightful and real."
Sue – an attendee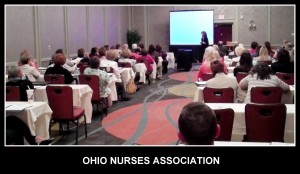 "Thanks for the workshop, it was awesome. You are a great speaker and brought some important issues to us. I will contact you for a speech in the Fall for other locations throughout Pinal County."
Dora V Tompkins – Central Arizona College – Events Coordinator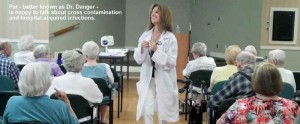 "Hi Pat ~ My husband and I really loved your talk at our community event. So many people turned out for this topic and you certainly did not disappoint. Everyone needs to hear this and I'll be sharing with everyone I know."
Maggie and Mike Turner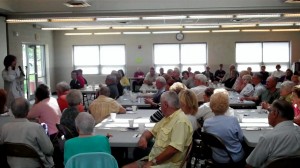 "Wow is all I can say. Your presentation was sad, fun, informative, funny, and sincere all rolled into one."
Chris B.
"The Health & Wellness Ministry at the United Methodist Church is pleased to announce the upcoming presentation Speak Up and Stay Alive by Pat Rullo, author of the the same titled book. Her personal experiences and her wonderful communication style will give you some vital information to help you avoid some potentially dangerous situations if admitted to a hospital for any reason and will be worth your time and effort to attend. Her ability to share this in a light hearted and humorous way will also give you the assuredness to boost your self confidence in being prepared for any future planned or unexpected trips to the hospital. I HIGHLY recommend this and hope to see you. Please feel free to bring a friend or two."
Susan Malloy- RN – Gold Canyon United Methodist Church
"Our 6:00PM service at Cornerstone Church was an education into how to prepare ourselves for hospital visits. Book writer Patricia Rullo has a powerful book that I recommend for all to read. We all have faced going to a hospital one time or another without knowing our rights or how to protect ourselves from potential dangers. Pat has a lot of needed information that we all need know. I recommend that you ask Pat to come to your Church to speak."
Pastor Bob Lenz – Cornerstone Wesleyan Church Arizona
"I hosted Pat for one of my networking groups as well as attended one of the seminars she did. She is a very good, heartfelt speaker! Great thought-provoking information. The people listening were awed because she provided such a fresh and startling approach to something very basic. It was great."
Elaine Poker-Yount – Community Liaison – Visiting Angels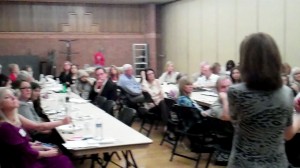 "Pat, thanks for writing the book. Dee and I have enjoyed it. It just goes to show that you need to really be involved in your health care! Everyone needs to read this book – long before they need a doctor ! "
Mark Petro – New York Life Insurance Company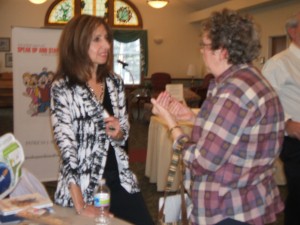 "We loved your presentation at our Senior Center. One thing for sure – it was not boring. I took notes and nearly ran out of paper. Thanks for sharing this lifesaving information with us."
Kathy K. – Event Attendee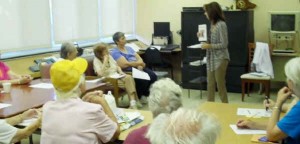 "Serious topic but so important – and you spoke in easy to understand language with humor and kindness. I'm telling everyone to ask you to speak to their church too."
Fran – Event Attendee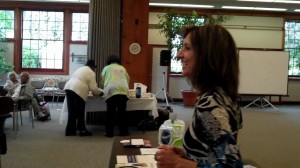 "Pat – Your presentation was fun and lively and interactive. Who would have thought we would learn so much and laugh at the same time. You were great and I hope you can come back soon."
Rita – Event Attendee
"Oh my! This was great. So much information yet the hour passed quickly. We laughed and learned and really enjoyed your personable style. You were so down to earth and real. We just loved it."
Janice Joyce – Event Attendee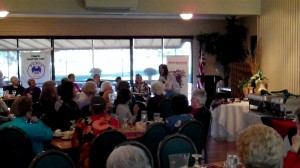 "Patricia, Thank you, so much for the opportunity to hear you speak yesterday. The information you gave is invaluable to all of us. Your book should definitely be in every home."
Alice A. Blackmore – Community Relations Manager – RidePlus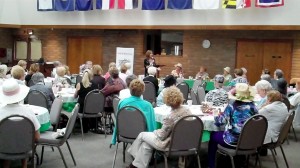 "This afternoon I had the pleasure of listening to Pat Rullo speak on her experiences of being an advocate on behalf of her mother who was hospitalized a few years ago. This resulted in a book being authored by Pat entitled, "Speak Up and Stay Alive." In addition, she has created "Patient Safety Logs" that an advocate can take to the hospital to use while acting on behalf of the patient. Pat is a dynamic speaker and I would suggest you take a look at her website."
Marge Raudstein- Event Attendee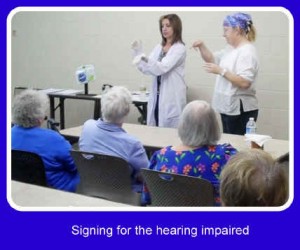 "Pat – your live presentations are awesome. You are fun to listen to and you have a quick sense of humor. My husband and I thoroughly enjoyed the afternoon. Now we listen to your radio show every Saturday morning. We just keep on learning. We especially like the game Fear the Wheelchair. You are so friendly and kind."
Lonnie McNeely – Event Attendee

"Pat – I have heard many positive remarks about your presentation on Monday. Everyone enjoyed it and learned so much. The hours you spent doing research to acquire so much knowledge will benefit many people. It is amazing how we come to "accept" everything we are told by medical personnel and we don't question anything. You opened our eyes to many things. The idea your mom had for the pillow cases is fantastic. It is easy to see how much good they can do for service members and their families but most of us would never have thought to do it. We all enjoyed meeting both you and Bob and I can imagine many great experiences in your future. You will do a wonderful job opening the eyes of so many to what can happen, and does, but never should. Again, thank you both, it was great meeting you and learning from you."
Suzanne – Event Coordinator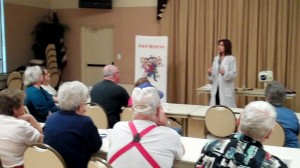 "You're an inspiration. Great energy and quick sense of humor. We just loved your presentation and your germy apron!"
Joyce Marks – Event Attendee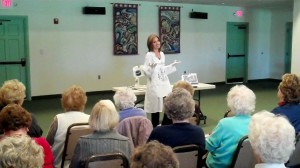 "This Book Will Spell Out Nothing Less Than Pertinent Information That Could Save Your Life Or The Life Of Someone You Love!"
Monty & Cecilia – Owners – My Arizona Desert Living
"Hi Pat! Congratulations! I think this book is going to be very important for many people! It was a pleasure speaking with you. Your story and courage is amazing."
Hari Khalsa – Healthcare Whisperer MSN/FNP, BSN/RN
"Hi Pat – Local Gold Canyon people heard your talk at the Gold Canyon Business Association meeting and highly recommended you as a speaker for our Rotary Club. Would you be interested in coming to talk with us?"
"Hello Pat – I am the program chair of an Arizona Chapter of NARFE (National Active and Retired Federal Employee Organization). A former president of our chapter heard you speak and thought it would be great if you could speak to our group."
"Good Morning Pat. Thanks again for an excellent, informative event! My Kiwanis Club meets the first and third Mondays each month. We can schedule it now and that would give me ample time to promote you and fill the room. Thank you and may God continue to bless your mission!"
"Pat – I bought seven copies of your books today – one for each of my children because I don't know which one will be my advocate. Now I feel much safer. Thanks for all you do."