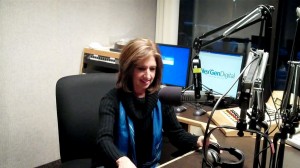 Speak Up and Stay Alive is a one-hour weekly nationally syndicated radio program hosted by noted author Patricia J. Rullo – empowering both patient and healthcare providers alike to improve the patient experience through education and mindfulness. The program delves into little known healthcare and hospital hazards – what they are, how and why they happen and what to do to prevent them from happening to you.
Flagship Stations – Broadcast every Saturday morning from the Salem Communications studio in Independence, Ohio. (WHK/WHKW/WHKZ)
Each week the message changes within a regular format – the healthcare hazard of the week, followed by a world class guest expert interview, a change of pace with a lighthearted game with serious healthcare related topics such as Fear the Wheelchair, Is that a Shock or is it a Crock, and a wrap up to close out the show.

The program runs 52 minutes without commercial interruptions. Sponsor spots are woven within the show to create a branded content message.
Sponsorships



Advertising sponsorship of Speak Up and Stay Alive is an affordable and value-driven opportunity.  The program is syndicated nationally through CRN Digital Radio Network through its cable television, radio and satellite distribution network.  Additionally, CRN delivers a live weekly online program broadcast and video streaming of the show at CRNTALK.COM, plus podcast and mobile compatability through iPhone, Blackberry, Android, Palm and Windows Mobile devices. Listen live every Saturday morning from noon to 1:00 Eastern – 11- noon Central – 10-11 Mountain and 9-10 Pacific.
Terrestrial Radio, Satellite, Internet, & Cable Radio

Distribution in Top U.S. Markets Reaching Over 11 Million Households *

According to 2009 Arbitron and FGI Cable Ratings Systems data, a daily average of 42% of the total US radio audience listens to radio in the home, and Talk Radio is listened to in the home almost 2 to 1 over any other format.
Listener Profile



► 77% of listeners are college educated

► 44% earn annual incomes of $75K +

► Nearly 50% of all listeners are in the 25-54 key demographic
► Men 25-54 represent 25.7% of the listener audience

► Women 25-54 represent 23% of the listener audience
► Nearly 50% of all listeners are in the over 50 senior demographic
► Affluent cities represent more than 50% of terrestrial broadcast listenership

Wealth

► 42% more likely to have used money management or financial counsel

► 21% more likely to own investment real estate

► 25% more likely to spend $40K+ on a car

► 25% more likely to own a vacation home

Education

► 25% more likely to have completed post-graduate studies

► 25% more likely to have taken continuing education courses in the last year

► 54% more likely to attend museums

► 44% more likely to be a book club member

Here's what you get:



► Syndicated National Reach
Speak Up and Stay Alive broadcasts program content to more than 11 million homes 24/7 through its radio, cable television and satellite distribution network, plus online and mobile streaming. 

► Professionally Produced Sponsor Broadcast Spots

As part of your sponsor participation, we will produce your 15, 30 or 60-second broadcast spots to run during the  broadcast of the Speak Up and Stay Alive radio program if content is applicable and approved – OR – your message can air outside of the program (at the end) as a stand-alone spot with no apparent connection to the show. (this option may be appropriate for businesses that want the air time but whose message does not make sense within the show ie: glass windows, construction, etc)

► Guest Appearance on the show if content applicable

As a sponsor of Speak Up and Stay Alive radio, we look forward to featuring you as a guest on the show to talk about your products, services, and upcoming special events. 

► We create a YouTube video of your interview
 Accessed by millions of potential viewers worldwide, you then have the option of linking video segments into your own social marketing strategies.

► Listeners can hear your message via mobile devices
Using a variety of applications for iPhone, Blackberry, Android, Palm, iHeart Radio or Windows Mobile.  To find out how: http://www.crntalk.com/listen or you can always listen online at Speak Up and Stay Alive http://www.speakupandstayalive.com

► Promotion at all of our live speaking events
Recent presentations at The Cleveland Clinic, Ohio Nurses Association, The Beryl Institute, The World Congress, Westshore Pharmaceutical Association,   National Association of Retired Federal Employees,  plus hundreds of churches, senior events, women's groups and more.
► 24/7 Live streaming and on demand available at the Speak Up Talk Radio Network


Enhanced Advertising Options



15, 30 and/or 60 second broadcast spots on one or both options below – either within or outside of the show:
218 cable television stations and 3 Cleveland terrestrial stations – plus heard weekly on CRN Digital Talk Network, iHeart Radio, and daily on the Speak Up Talk Radio Network
15 second broadcast spot – one per week to air on terrestrial radio stations in 250 US markets
*CLICK HERE FOR THE LIST OF 218 CABLE TELEVISION STATIONS
CLICK HERE FOR THE LIST OF 250 TERRESTRIAL RADIO AFFILIATES
Internet:
Saturday morning from 10-11 ET Listen live
We provide a wide range of value-added sponsor promotions at a fraction of the cost of comparable regional or national advertising mediums.
Please contact pat@speakupandstayalive.com